Temporary fence panels are widely used in Australia,New Zealand.So it is called Australia standard temporary fencing.Of course Australia temporary fence panels are not same with others. It is according to AS 4687-2007 standard. And Australia standard temporary fencing zinc thick is 42 microns and 14 microns. 42 microns zinc is a little expensive than 14 microns zinc coat. At same, 42 microns zinc temporary fencing actual using life-span could prolong 3 times compared with 14 microns zinc. More 14 microns temprary fencing are widely used for rental industry in Australia and Newzealand.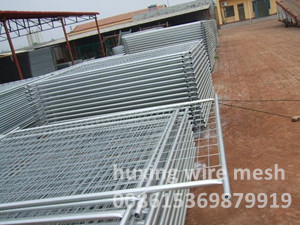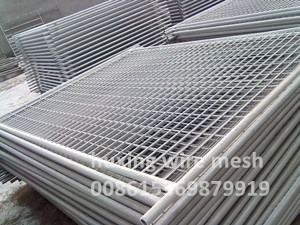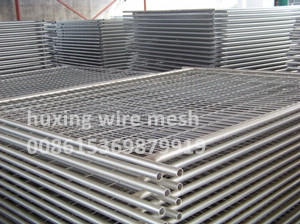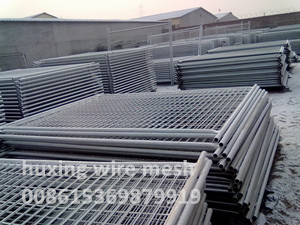 Characteristics of Temporary fence panels:
Smooth surface,firm welded structure,precise opening mesh.
Better properties of corrosion resisting,oxidation resisting,weather resisting and aging resisting.
Temporary fence panels popular size and specification:
Materials: hot galvanized wire and pipe or carbon steel wire and tube
Surface finishing: hot dipped galvanized (14 microns and 42 microns)
Wire diameter: 3.0mm, 3.8mm, 4.0mm, 4.5mm, 5.0mm
Mesh Aperture: 60x150mm, 60X200mm, 75x75mm, 75x150mm
Fence frame pipe: 25mm O.D., 32mm O.D., 38mm O.D., 42mm O.D., 48mm O.D.
Wall Thick of Pipe: 1.4mm, 1.5mm, 1.6mm, 2.0mm
Panels Size: 2.1x2.4m, 1.8x2.4m, 1.8x2.9m, 2.25x2.4m
Temporary fence feet or block :
Plastic fence feet with concrete or sand or water.
Feet color:orange,blue,red,yellow.
Temporary fencing installation:
It can quickly and easily be installed, without the need to disturb the surface area by digging holes or laying foundations.Plastic feet with concrete and steel clips could promise temporary fence firm and strong.