Made with quality steel materials and professional construction designs, HUXING WIRE MESH Portable Fence Panels Construction Site Metal Temporary Wire Fence Panel is engineered to deliver the best value for your solution at a great price.

Also known as Canada temporary fence, portable fence panel, steel temporary security fence or construction site fence, Portable Fence Panels are quick to set up and easy to move and is ideal for restricting access or enclosing a site and is commonly seen at construction sites, public events, as a dog run, or anywhere crowd control is important. Also named quick install & move temporary fence panels.

The durable portable fence temporary wire fence panels are usually pre-galvanized frame square tube 30 x 30 x 1.2 mm, and 20 x 20 x 1.2 mm or 25 x 25 x 1.2 mm horizontal bar, 3.5 mm or 4.0 mm inner filled welded wire mesh panels, to fully weld together, then powder coated colors, such as yellow, green, orange, grey, and blue.

Our standard panels are available in 6'H x 9.5'L or 4'H x 9.5'L panels with either powder coated or hot dip galvanised surface finishing. But we can customize quickly for any size, color or finishing to perfectly suit your needs at the best available price.

Standard Temporary Wire Panel Specifications:
- 6'H x 9.5'L – PVC Powder With (3"x 6"Mesh) or (2"x 4"Mesh) Finish
- 8'H x 9.5'L – PVC Powder With (3"x 6"Mesh) or (2"x 4"Mesh) Finish
- 6'H x 4.75'L– PVC Powder With (3"x 6"Mesh) or (2"x 4"Mesh) Finish
- 4'H x 9.5'L – PVC Powder With (3"x 6"Mesh) or (2"x 4"Mesh) Finish
Frame and Middle Pipes:
Square Tube: 30x30mm, 25x25mm, 20x20mm
Wire Diameter:
3.0mm, 3.5mm, 4.0mm.
Color Options:
Yellow, Black, Orange, Red, Green, Blue, Silver .

Colored Pictures of Temporary Weld Wire Fence Panel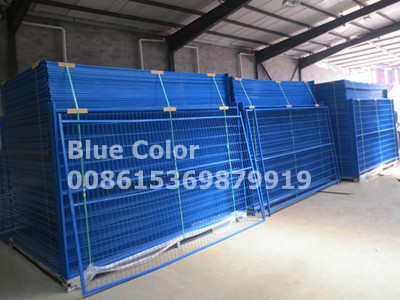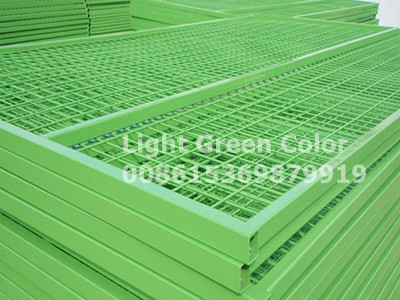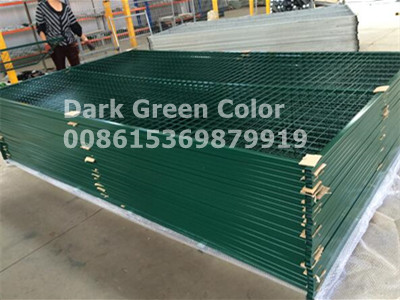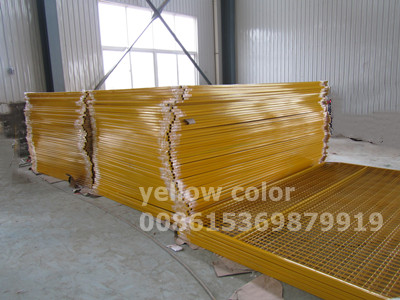 Top Pin Clips and Steel Plate Feet Pictures
The ending top pins or clips are made of carbon steel square and round tube, to be full welded together, then make powder coated colors, which can connect the top of two panels.
The stand foot of temporary metal fence is made of galvanized steel plate and smaller square tube, or solid steel bar welded together, to support the bottom of two panels. There are two Pre-drilled holes in the base feet to hold the panels more stable and durable with explosion-proof screw.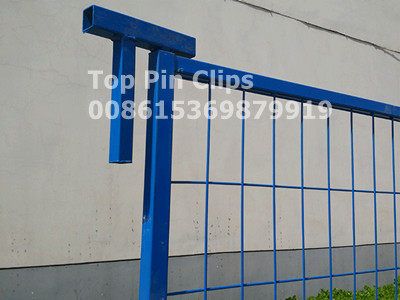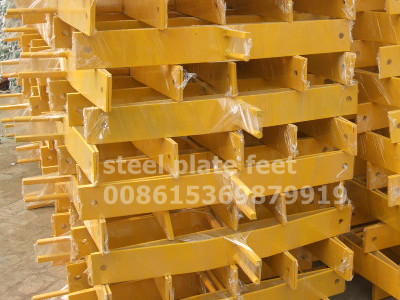 Installation Powder Coating Portable Fencing Pictures