Outdoor 10FTx6FTx6FT Sturdy Hot Dip Galvanized Dog Kennel Fence Panel with Metal Roof is an ideal dog kennel product for dog playing & trainning in a safe, comfortable and secure places.
Features: Sturdy, Comfortable, Safe and Beautiful.
Unit Kennel Size:10'x5'x6',10'x6'x6', 8'x5'x6'
Materials: High tensile steel wire: 4.0mm, 4.5mm, 5.0mm.
Weld Wire Mesh Open:2''x2'', 2''x4''
Frame Pipe: 32mm,38mm diameter.
Surface Finishing:hot galvanised. 100% commercial grade corrosion resistance.
Fittings:Connection clips and latch, Easy to install and usage.
Applications:Commercial usage, Garden, Backyard, House and Farm.

[Safe and Secure, Rust-Resistant] Welded Wire Dog Kennel Provide a safe and secure shelter for your beloved pet. This dog kennel has 4.0mm wire diameter and it is built with sturdy permanently welded frame and wire construction with rust-resistant zinc coating for durability.
---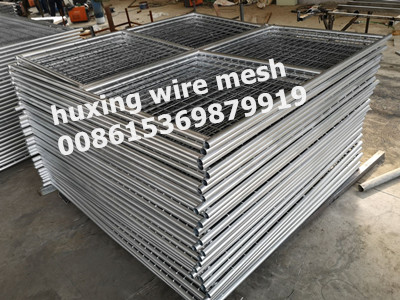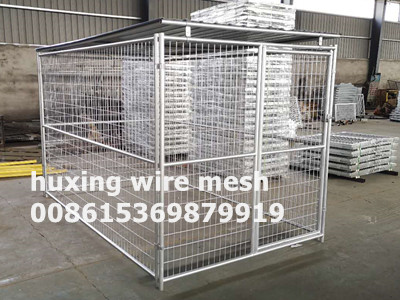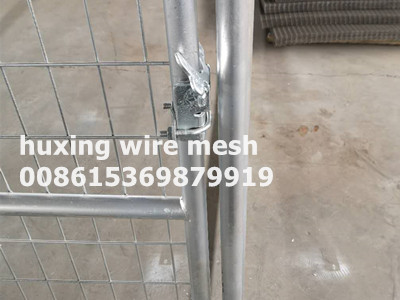 [Simple Assembly and Easy Latch] With the installation instruction,the dog kennel can be assembled in just a few steps winthin 15-30 minutes.The kennel's gate open freely for easy entry and exit from the kennel. The gate's latch secures the gate firmly and can be locked with any basic padlock.
---
Q: How to choose a good quality dog kennel?
A: Send all your requirements to me, I will give you my suggest of the dog kennel. Custom-made dog kennel is best for pet special care.
Q: What is the advantage of HUXING WIRE MESH DOG KENNEL?
A: Hot dip galvanized surface finishing, Corrosion resistance. Welded wire dog kennel fence panel, sturdy and strong.
Q: Whether need metal roof dog kennel?
A: If the hot dip dog kennel used in outdoor, then it is better to have steel dog kennel with metal roof.