Stainless Steel Rope Mesh
Item No.: DMDWM02
Materials:high tensile stainless steel 304, 316, 304L and 316L.
Construction:7×7,7×19,1×7,1 ×19
Cable Wire:3.2mm,2.4mm,2.0mm,1.6mm,1.2mm
Opening Size:1''x1'',2''x2'',3''x3'',4''x4'
Stainless steel knotted rope mesh and Ferrule rope mesh
INQUIRY
Stainless steel rope mesh is made from high tensile stainless steel 304, 316, 304L and 316L. The stainless steel rope construction is 7 × 7 or 7 × 19, and 1 × 7 and 1 × 19 are also available. Stainless steel rope mesh can be divided into two kinds according to the combination method:stainless steel knotted rope mesh and stainless steel ferrule rope mesh. The former is combined by the ropes winded together. And the latter is combined by the ferrules which are made up from the same grade stainless steel.
| | |
| --- | --- |
| | |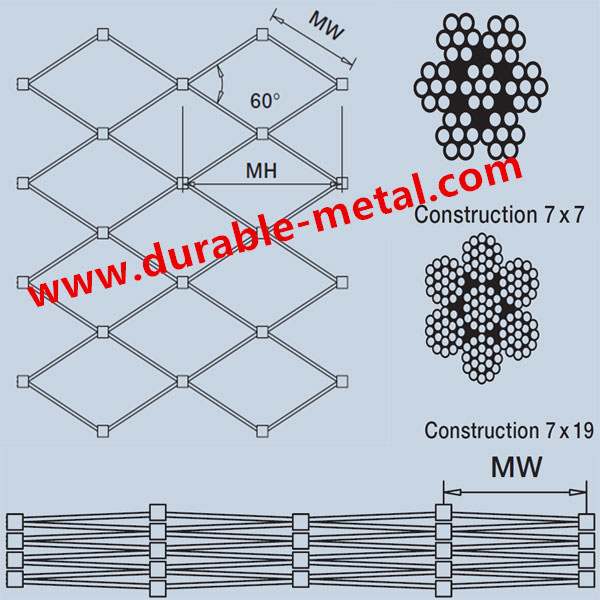 Features of Stainless Steel Rope Mesh:
Aesthetic Appearance:diamond holes and aesthetic appearance,making it suitable for decoration.
High Flexibility: mesh size can be modified according to customers' requirements.
Soft But Strong:Stainless steel rope mesh is soft, so it will not hurt hands. Meanwhile, it has high strength, so it can bear heavy snow, rain and gale.
Excellent Visibility:The rhombic holes allow enough light to enter, making the rope mesh has good perspectivity.
Never Rust,
Long Service Life:Its service life is more than 30 years.
Application of Stainless Steel Rope Mesh:
Slope Protection Rope Mesh: Slope protection rope mesh has enough intercept strength to prevent the rocks from slope falling onto road, railway, expressway or other structures. Instead, rocks will fall to the foot of slope behind the rope mesh.
Zoo mesh: Diamond-shaped openings and high strength, which can protect visitors from being damaged. Therefore, visitors can enjoy the animals at a close distance free of danger. What's more, it can protect animals from being hurt.
Aviary Netting:The mesh size and opening size of stainless steel rope mesh can be modified. So it can provide enough space and create a natural environment for birds to make them live comfortably.
Green Wall:Stainless steel rope mesh is resistant to corrosion and rust even though it is exposed to sun directly. And it can make the green wall with green plants. Green wall can regulate the temperature of the building and it can protect the building wall.
Decoration Mesh:The diamond-shaped holes make the stainless steel rope mesh have aesthetic appearance, so rope mesh can be used for decoration of building, such as ceiling and curtain wall.
Balustrade Mesh:Stainless steel rope mesh is also used for the balustrade of stair or balcony. It can make the stair grand, beautiful and safer.
Suspension Bridge Railing Mesh:Stainless steel rope mesh is also mainly used in the suspension bridge railing. It can increase the safety performance of suspension bridges and ensure the safety of passers.
More information about stainless steel wire rope mesh,welcome to click decorative wire mesh catalogue.