Weld Mesh Perimeter Temporary Fence with Plastic Feet Block
Item No.: HXTF01
Australia Zinc Thick 14microns
2100x2400mm,1800x2400mm Panel size
Wire dia.:3.5mm,4.0mm.
Mesh Aperture: 60x150mm,60x200mm
O.D. 32mm, Wall Thick 1.6mm
Plastic Feet with Concrete
INQUIRY
Weld Mesh Perimeter Temporary Fence with Plastic Feet Block is widely used in Australia,New Zealand. So it is called Australia temporary fence, Australia standard temporary fence.Because of the highly flexible, effective solution to site security problems, temporary fence are mainly used on the city road, garden places, children playground, pool,construction areas and other public areas for safety.

Characteristics of Perimeter Temporary Fencing:
Smooth surface,firm welded structure,precise opening mesh.It has the better properties of corrosion resisting,oxidation resisting,weather resisting and aging resisting.
Perimeter temporary fencing size and specification:
Materials: HDG wire, HDG pipe carbon steel wire and tube
Surface finishing: hot galvanized
Wire diameter: 3.0mm, 3.5mm, 4.0mm, 4.5mm
Mesh aperture: 60x150mm, 75x150mm, 60x200mm, 50x100mm
Fence frame pipe: 32mm O.D., 38mm O.D., 42mm O.D.
Fence panel size: 2.1x2.4m, 1.8x2.4m, 1.8x2.9m, 2.25x2.4m, 2.1x2.6m, 2.1x3.3m
Different specifications are available according to clients' requirement.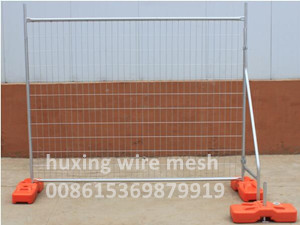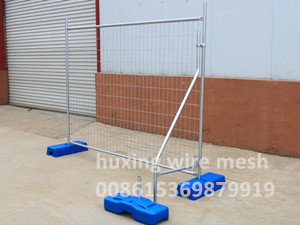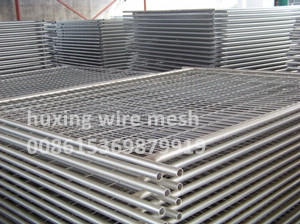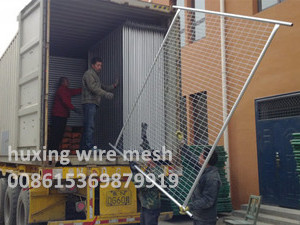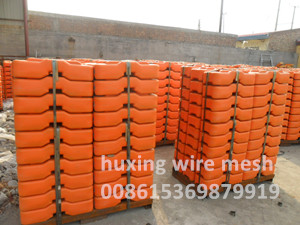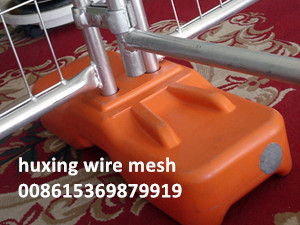 Perimeter Temporary fencing installation:
It can quickly and easily be installed, without the need to disturb the surface area by digging holes or laying foundations.Plastic feet with concrete and steel clips could promise temporary fence firm and strong.