Durable Metal Products Co.,Ltd divids gabion mesh basket into 2 kinds.One kind is weld gabion basket,the other is hexagonal gabion mesh box.Two kinds of gabions are widely used.Now Durable Metal Products will introduce each type of gabions for everyone.Please check the following.
Description of Weld Gabion Basket:
Weld gabion basket also named gabions,rock gabions,weld wire gabions,weld mesh gabions,gabion box,galfan coated welded gabions,weld mesh gabion box,garden gabions.
Weld gabion basket is made by weld wire mesh panels and spiral wire or steel bolts.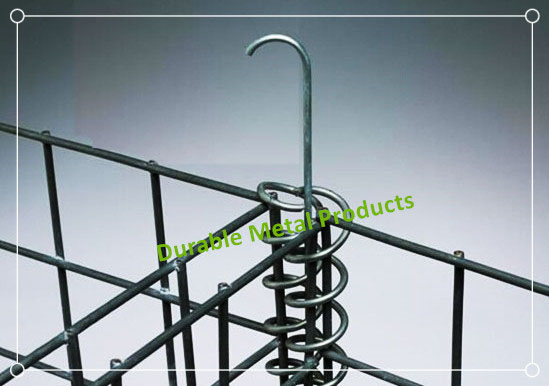 Materials of weld mesh:high tensile steel wire or galfan steel wire
Tensile Strength of wire:380N/mm2-550N/mm2
Wire diameter of weld mesh:3.0mm - 6.0mm
Mesh opening of weld mesh:37.5x75mm,50x50mm,75x75mm,50x75mm,50x100mm,100x100mm
Size of weld mesh panel:500x500mm,500x1000mm,1000x1000mm,500x1500mm,1000x1500mm,1500x2000mm,1000x2000mm
Surface Finishing of weld mesh panel:hot dip galvanized,heavy duty gavanized or galfan coated galvanized
Zinc Coating weight:60g-500g
Applications of weld gabion baskets:
1.)Decorative our garden,house,home and landscape as step and wall2.)Rock fall defending3.)Preventing the water and soil lost4.)Protecting the bridge5.)Reinforce fabric6.)Seashore recovery project7.)Seaport project8.)Block wall9.)Defending the road
Packing:Gabions are supplied folded, tied in pairs and packed in compressed bundles. Each gabion is placed by hand or by crane into its desired location, where work room is limited or underwater placement required,gabions can be filled first and then put into position.
Description of Hexagonal Gabion Mesh Box:
Hexagonal gabion mesh box is made by heavy hexagonal wire mesh.
Materials of hexagonal wire mesh:High tensile heavy duty galvanized steel wire,galfan steel wire,PVC coated steel wire
Wire diameter:2.0mm - 4.0mm
Size and specifications of hexagonal wire mesh:
Opening

(mm)

Wire Dia

(Metal Wire)(mm)

Wir Dia(PVC coated)

Inner/Outside(mm)

Strands
60x80
φ2.0-2.8
φ2.0/3.0-2.5/3.5
3
80x100
φ2.0-3.2
φ2.0/3.0-2.8/3.8
3
80x120
φ2.0-3.2
φ2.0/3.0-2.8/3.8
3
100x120
φ2.0-3.4
φ2.0/3.0-2.8/3.8
3
100x150
φ2.0-3.4
φ2.0/3.0-2.8/3.8
3
120x150
φ2.0-4.0
φ2.0/3.0-3.0/4.0
3
Packing:Compression in bundle.
Hexagonal gabion mesh box could also called twisted gabion mesh,weave gabion mesh,gabion mattress,gabion box,gabion retaining wall,pvc coated gabion mesh box.
Characters of Durable Metal gabion mesh baskets:save cost shipping,easy work when installation,durabilty and flexibility.
Every client could choose suitable type and size according to applications.Durable Metal Products will be appreciated to receive your more feedback.