Canada Standard PVC Powder Coated Portable fence panel is widely used in USA and Canada market. It also called Canada standard temporary fence panel. Huxing Wire Mesh could produce custom-made temporary fencing with best offer based on ensured quality.
Material: low carbon steel wire or galvanized steel wire,hot dip galvanized steel wire
Surface treatment: Hot-dipped galvanized, galvanized then PVC powder coating
Color: Orange,Blue,Red,Yellow,Green
Applications: Secure construction sites,private property,major public events,sports,concerts,festivals & gatherings.
Features:
With many available high visibility colors to choose.
Anchored to sturdy metal bases,connected at the top by metal clips.
Temporary fencing systems can quickly and easily be installed,without the need to disturb the surface area by digging holes or laying foundations.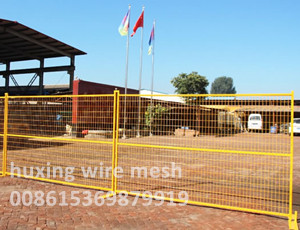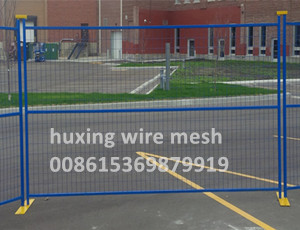 Common Specification:
Wire Diameter: 3.0mm,3.5mm,4.0mm
Opening: 50x100mm(2''x4'')
Height x Length: H:3.75',4',6'&8'; L:8',9.5'&10'
Frame&Middle pipe: 30x30mm, 25x25mm & 20x20mm
Steel Feet: 860mmx90mmx7mm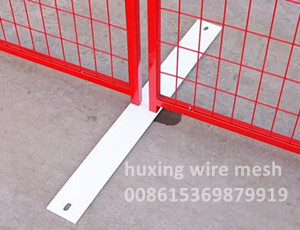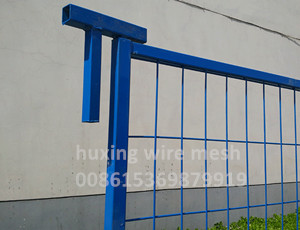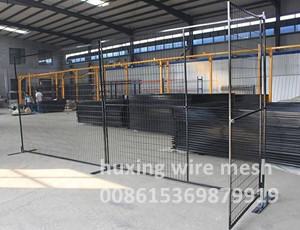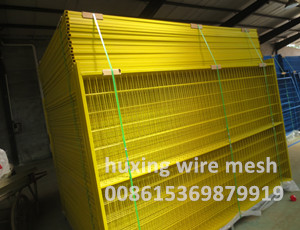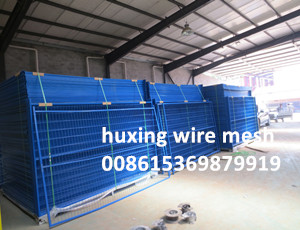 Related Australia standard temporary fencing details as shown.